Albert Einstein
Från Unix.se, den fria unixresursen.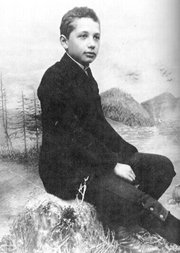 Albert Einstein, tysk jude och amerikan, socialist, fysiker, Nobelpristagare samt geni. Föddes 14 mars 1879 i Tyskland och studerade vid ETHZ i Schweiz, arbetade och dog 18 april 1955 i Princeton, USA.
Revolutionerade vår uppfattning om världen med hans speciella och allmänna relativitetsteori. Samma år, 1905, som han publicerade dessa två teorier formulerade han även existensen för den fotoelektriska effekten, något som ligger till grund för en stor del av dagens uppfattning om ljus (och därmed även laser, fiberoptik osv.). Notera att hans Nobelpris 1921 tilldelades för just detta, och inte de, om något, större upptäckterna.
Nästa år, 2005, markerar 100 år efter Einsteins s.k. mirakelår, och är även av FN utsett till World Year of Physics (http://www.wyp2005.org/internationalyear.html).
Citat
"The reciprocal relationship of epistemology and science is of noteworthy kind. They are dependent upon each other. Epistemology without contact with science becomes an empty scheme. Science without epistemology is - insofar as it is thinkable at all - primitive and muddled.
However, no sooner has the epistemologist, who is seeking a clear system, fought his way through to such a system, than he is inclined to interpret the thought-content of science in the sense of his system and to reject whatever does not fit into his system. The scientist, however, cannot afford to carry his striving for epistemological systematic that far. He accepts gratefully the epistemological conceptual analysis; but the external conditions, which are set for him by the facts of experience, do not permit him to let himself be too much restricted in the construction of his conceptual world by the adherence to an epistemological system.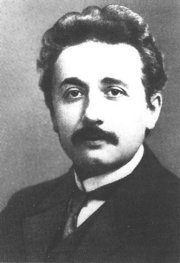 He therefore must appear to the systematic epistemologist as a type of unscrupulous opportunist: he appears as realist insofar as he seeks to describe a world independent of the acts of perception; as idealist insofar as he looks upon the concepts and theories as the free inventions of the human spirit (not logically derivable from what is empirically given); as positivist insofar as he considers his concepts and theories justified only to the extent to which they furnish a logical representation of relations among sensory experiences. He may even appear as Platonist or Pythagorean insofar as he considers the viewpoint of logical simplicity as an indispensable and effective tool of his research."llllllll
Externa länkar
Einsteins akt hos FBI (http://foia.fbi.gov/foiaindex/einstein.htm) (p.g.a. hans samröre med kommunistiska partiet)
Einstein@HOME (http://www.physics2005.org/events/einsteinathome/)